This Kahuna and Lomi Lomi online course teaches you all the essentials to become a Lomi Lomi and Kahuna massage practitioner. Lomi Lomi and Kahuna Hawaiian massage is becoming more popular as an option for your clients. Kahuna and Lomi Lomi bodywork is the art of performing long strokes in a dance like motion as a form of massage, rather than the traditional remedial massage. Kahuna is both a gentle and relaxing massage for your client, and helps them to connect to their heart space, while helping to release emotional trauma and feel soothed. This online course teaches you how to assist your client to release their built up emotional wounds, and perform a calming and gentle massage that will alleviate lots of stress and tension.
In this Kahuna massage course you will assist your client in a deep space of healing. By connecting to their heart space, a client will be able to understand more of what makes them triggered, and you as a practitioner will enable them to release their trauma whilst compassionately performing a highly skilled and unique massage. Kahuna Body Work is a uniquely Hawaiian style of massage, and is becoming more popular and in demand as a skill for masseuses to have as part of their therapies offered.
This Kahuna online massage course covers Hawaiian philosophy as part of the understanding necessary to be a Kahuna and Lomi Lomi Bodywork professional. It also covers the history of Kahuna and Lomi Lomi massage, and how it has come to be a well regarded form of massage and body work treatment. This online certificate massage course will help set you up for success.
This course teaches you how to use leverage, posture and motion and to work according the the client's body in order to facilitate a healing experience for your client.
Fully delivered online, you can expect this comprehensive course to be able to give you an understanding of how to run your massage practice, market it, and how to organise the day to day operations of your massage therapy practice.
Enrol now in this incredible course, on sale for only a short time! Sale ends soon! Buy in instalments with Afterpay or Paypal Pay in Four!
What you will learn in this incredibly comprehensive course:
The Art of Lomi Lomi and Kahuna Massage
The Difference between Kahuna and Lomi Lomi Massage
The Principals of Huna
Hawaiian Philosophy
The History of Kahuna and Lomi Lomi
Hawaiian Proverbs for Healing
What You Will Need for Your Massage Therapy Practice
Contraindications for Massage
Setting up the Space
Oils for Massage
Hot Towel Warming
Benefits of Skin Brushing
Elemental Medicine
Music Compilation for Relaxation
Getting Started
Emotional Release
Oiling Up the Body With Prayer
Warming Up and Strokes for the Back
Lower Back and Arms
Lower Back and Arms 2
Back of the Body and Stretch
Legs and Closing
Turning from Back to Front of Body
Male Face and Neck
Female front of Body and Closing with a Balance
Disconnecting from the Body
Looking After Your Own Body
This course is ideal for couples who want to share the wonders of Lomi Lomi and Kahuna Massage therapy, or beginner massage therapists, or the seasoned masseuse who wants to add to their skill set. This valuable course will set you up with the information you need in order to operate your own massage practice or be able to offer massage to your partner.
Enrol now in this incredible massage therapy online course. Sale ends soon! Buy in instalments using Afterpay or Paypal pay in Four!
Reviews:
"Five stars! I really enjoyed the course and for me it has helped set up my massage therapy practice and add additional skills to my regime, helping me to reach more customers. My customers love the Kahuna massages, it helps them to relax and they benefit from my new skills."
Helene Paquet, New York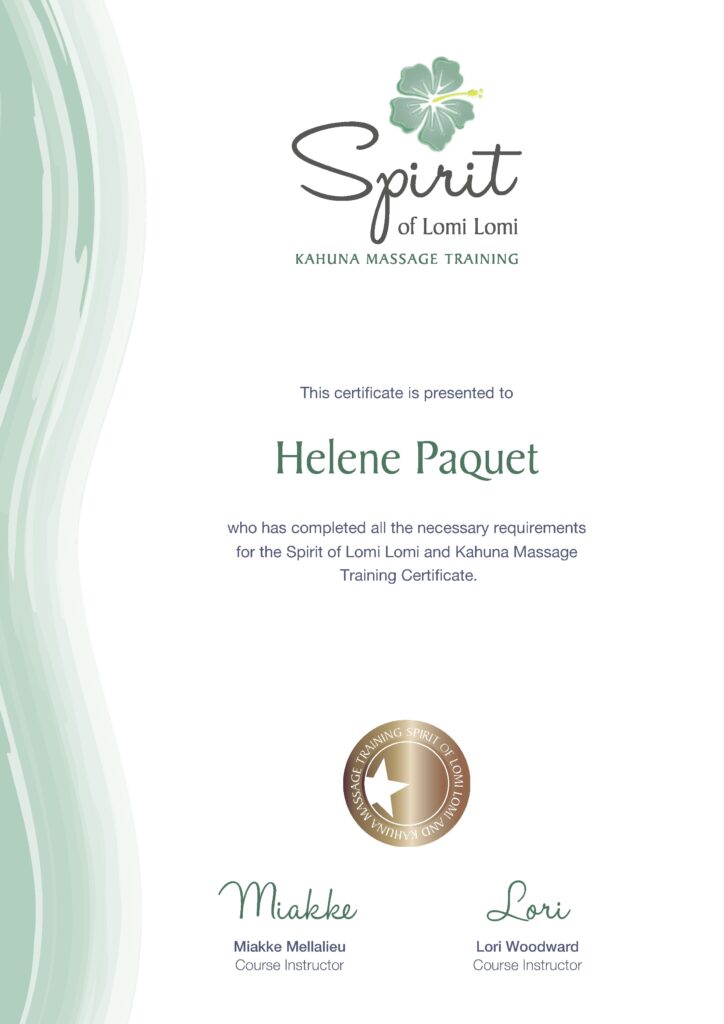 "This course is amazing! It is so comprehensive and thorough. The course creators have put so much work into it and have so much knowledge to share. I am a beginner massage therapist and have done this to help me get some more business into my practice. It has worked a charm." Meredith Skinner, Sydney
"Wow, all I can say is wow. This course is so much fun to do, and I have learned skills that have added to my massage practice. My clients love the Hawaiian style of massage, they find it so calming and soothing." Jessie Carter, London
As you can see people from all over the world have accessed this course and enjoyed the benefits of adding the skills of Lomi Lomi and Kahuna massage to their current skill sets. Join the many people who have done this course and reaped the benefits!
Enrol in this course today! Discounted and on sale, but for only a limited time! Buy in instalments using Afterpay or Paypal Pay in Four!
About your instructors:
Miakke Mellalieu is a renowned Lomi Lomi and Kahuna massage practitioner with around 20 years of experience in the healing industry. She has trained under well known Lomi Lomi and Kahuna Massage school the Mette Institute that teaches the Kahuna and Lomi Lomi arts, and has a studio in Brisbane Australia, where she gives massages to hundreds of satisfied customers. As well as being a Kahuna and Lomi Lomi massage therapist she is also a nurse, and registered Ho'oponopono Practitioner, with an advanced certificate. Miakke Mellalieu is well qualified to instruct in the methods of Kahuna and Lomi Lomi massage, being a practitioner herself, and now bringing her knowledge base to students from all over the world.
Lori Woodward is a qualified Lomi Lomi massage practitioner and studied Kahuna and Lomi Lomi under Miakke Mellalieu and is an advanced Ho'oponopono instructor. She follows the Huna lifestyle and philosopy of Hawaii. She has produced this course in conjunction with Miakke Mellalieu in order to share her knowledge and understanding of the wonderful nature of Kahuna and Lomi Lomi massage.